Closed Beta Status Update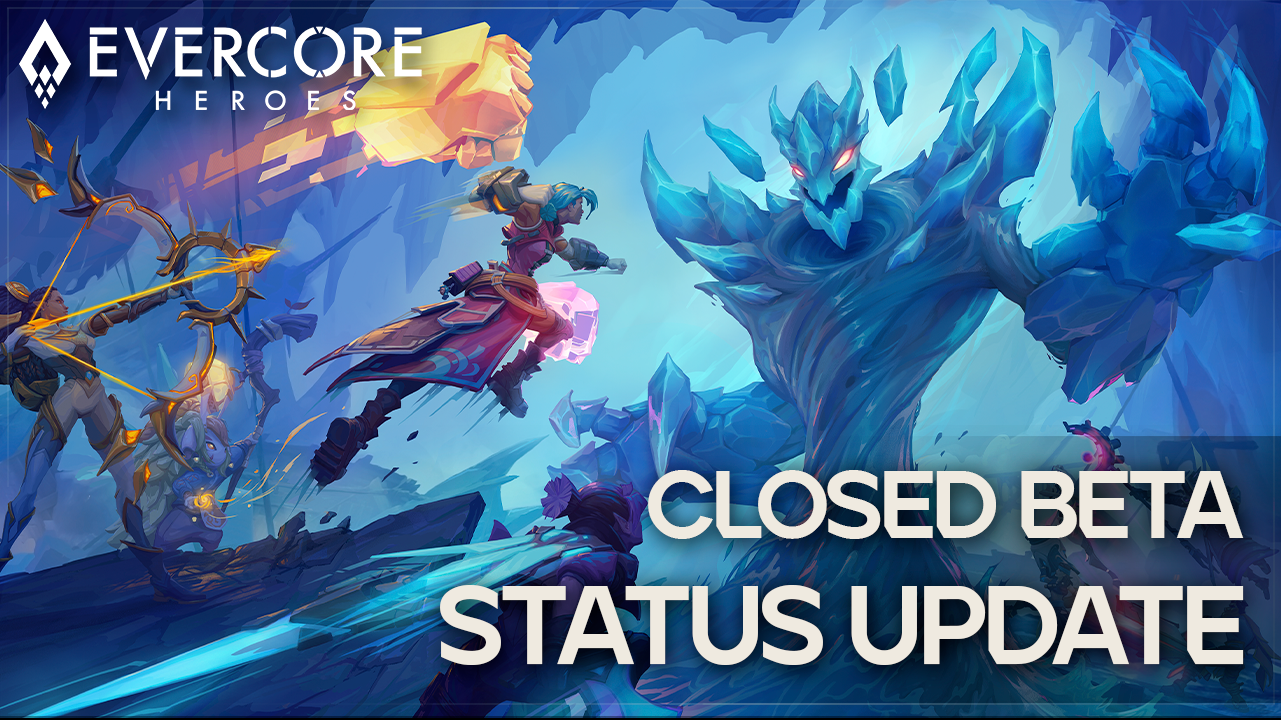 A status update on Closed Beta
It's been over three weeks since we launched Closed Beta and we wanted to use this time to look at how things are going and what you can expect from us going forward as we enter the next phase of development!
When we set out to transition Evercore Heroes from Alpha to Closed Beta it was our goal to do this together with the community and boy, you've delivered in a big way! We've had an amazing response and you've all held us to our word when we said we wanted to be the most player first company out there. Not only did your feedback help us to improve the game, you also showed a few of us how to play the game and get better at it!
We really think there is something truly magical (big Luum energy) happening here. As we grow, this is definitely something we want to keep doing so please keep the feedback coming whether it's directly in the client via the survey or via Discord, we love to hear it!
What we've learned and what we're doing about it!
We know not everything went as smoothly as we had hoped, and for a Closed Beta this wasn't outside the realm of possibility. You as the community continue to be a great help in showing us some of the biggest challenges you've faced, and we will keep listening and working on these as we go forward.
We've made a list of some of the biggest issues you'd like addressed, and although we will not be able to provide an immediate solution for all of these in the short term, we hope these will give you insight into the team's priorities and some things we're addressing!
Hard to find matches outside of peak hours
As it's a Closed Beta, we expected that we'd see lower player numbers during certain hours (depending on your region and time-zone). We made the decision not to go full-out on marketing the game yet as we really wanted to improve the game WITH a community of enthusiasts first. However, we're aware that these off-peak moments can make it difficult to find games at certain hours of the day.
We are improving this through a number of initiatives that will get more players in the game. More details on these initiatives will be coming soon!
One of the things we are doing is sending out three additional keys to everybody that supported us during Closed Beta and bought a Founders Pack which will help you to play with all your friends!
Learning the game as a new player
Evercore Heroes can be quite a lot to take in when playing your first game. There is a lot of action going on but it can also be tough to keep track of everything in a live competitive environment. We are aware of this and working on a way for players to practice, try out their heroes, builds, and more in a non-competitive environment. We're also exploring other ways for players to try out different heroes! Pow!
Leavers within the game
Nobody wants to leave their fellow heroes behind and play as a party of three! Our first step to tackle this problem will be to focus on getting those that disconnected back into the game with our planned 'reconnect' feature which we think will help a lot! Once we've fixed that we will start looking into the next step: leavers.
Matchmaking as a team of three
The only thing that is more fun than playing Evercore Heroes is playing it with your friends. We are aware that it's not always easy to get a full party together and that not being able to queue up when only two of your friends are online is annoying. Unfortunately, it's not as easy as just flipping the switch but know that it's definitely on our list and is actively being looked into!
What's next for Closed Beta?
We have quite some cool things planned for you! We wanted to share a few of them here with you today to give you an idea of what's to come next for Evercore Heroes!
Our very own Content Creator Program
We are proud to announce that we are about to kick off our very own content creator program by partnering up with Nexus and that you can sign up right now!
As part of this program, we'll be giving you, as our players, the chance to support your favourite creators, no matter how big or small, by using their creator code when purchasing a Founders Pack or an in-game item.
We'll be offering the creators an equivalent of 30% gross against the value of each Founders Pack sold under their creator code without any sales threshold meaning that each Founders Pack sold will give them a slice of the pie.
We are super excited about this program and it's part of us working towards becoming the most creator friendly studio in gaming!
Future patch Content we are working on
We've not been sitting still and have been working hard on new content to be deployed in our upcoming patches.
Here is a sneak peek on some of the new content we are working on:
A new hero to come soon with more on the way to give you new ways to save the world!
One of the most requested features; Hero Talents, will arrive in Evercore Heroes and will let you further personalise and diversify your favourite heroes!
We are working on a non-competitive way to practice and test heroes, builds, and more!
We are working on a new Luum Rush event! Be careful though, this one has deadly lasers you will want to avoid!
Mysterious turrets will start to appear! Take ownership of these dangerous turrets to thwart your rivals or capture all of them to reap a powerful reward...
New objective types for you to go after including some awesome new exciting disruption effects for you to sabotage other teams with!
These are just part of what is to come so keep an eye out as we'll reveal more soon!
Thank you for supporting us!
With a new update on the horizon, the content creator program launching real soon, and more exciting features on the way we are looking into entering the next stage of Closed Beta. We have a lot of really exciting things planned and we can't wait to enter the next stage together!