Community Update: Shaping Our Future Together
Greetings, Heroes!
As surely as the Luum energy courses through the Evercore, we've been continuing to take strides with the next version of Evercore Heroes - which we're calling Project-R (for now). We plan to continue to develop this next version along-side you, and today we wanted to not only share some of our reflections, but SHOW you a first glimpse of an exciting new direction!
First off though, we want to thank everyone for participating in the discussions over the past four weeks, it was amazing to read through all your replies (and even videos)! As a reminder here were the topics:
Team numbers and size and whether you'd think they should change

The tank/support role and what you expect them to be capable of

The map and changes you'd like to make to them

Your favourite and least favourite enemy formations and encounters
More Impactful Team Dynamics
From your discussions, it's clear that five heroes bring a kaleidoscope of strategies, but fewer heroes per team promise more impact and glory. Right now, we feel like a smaller team delivers more impact per player and allows for tighter teamplay, so that's what we're focused on and experimenting with.
In terms of the number of teams per match, although we really enjoyed the uniqueness that 4v4v4v4 brought to Evercore Heroes, it also introduced certain challenges (both gameplay and matchmaking) that we feel we can solve better by reducing the amount of teams on the map which many of you seemed to agree with.
Enhancing Hero Roles
Your insights on tanks and supports have not fallen on deaf ears. We envision tanks as strategic bulwarks, not mere shields; supports as crafters of opportunity, not just heal batteries. As we've stated, one of our top level goals in the transition to Project-R is to double down on the role based teamplay, and make each role really shine. We want each role to feel not only unique, but essential within encounters as well.
Some of the key areas we're currently focused on are:
Improving the aggro / threat system to allow for more precise control and punishment if mis-managed.
Combat strategy, such as having enemies respect formations, and balancing the game to have fewer "one shots".
Improving rewards in order to open up more varied build possibilities and push roles into more unique spaces.
Adversaries Advanced
We heard you loud and clear: our enemies need to evolve. Expect formations that challenge and demand smarter play, enemies that have a wider range of behaviours, and encounters that allow every role to shine.
We won't be remaking our entire roster of baddies (in fact, we already had quite a few memorable ones), but instead will focus on improving the moment to moment combat. One simple example is enemies having more patterns than just "see player -> move directly to player -> attack player". While we are not aiming for incredibly advanced, human-like behaviour, there are a lot of small improvements to enemies that we think will add up and improve the fun you'll have with our enemy encounters.
A World Remastered
Your adventures through Lumerea should be exciting and intuitive. One of the biggest pieces of feedback we consistently received during the Closed Beta was that players didn't always know the trade-offs of picking one direction over the other. You had to kind of "read the tea leaves" of the game to know how to optimise a run vs having clear trade-offs and impactful choices to make.
We're completely remastering our maps to create environments that encourage tactical play without confusion, where success and failure are lessons learned, not mysteries. We also hear that you want more Lumerean lore to be present in the game, and our changes will allow that as well. We aren't ready to announce all the details and changes just yet, but I can easily say this is one of the biggest ways that Project-R differs from ECH at the moment.
Finally, sticking with the remastering theme, we've been working on an updated look for the game. We wanted to get you closer to Lumerea, bring you into the action more, and give the game a bit more style. Here is a VERY early in-progress screenshot we made of Project-R that we wanted to share with you. Let us know what you think and see by leaving a message on our Discord and social media channels and let's have a talk!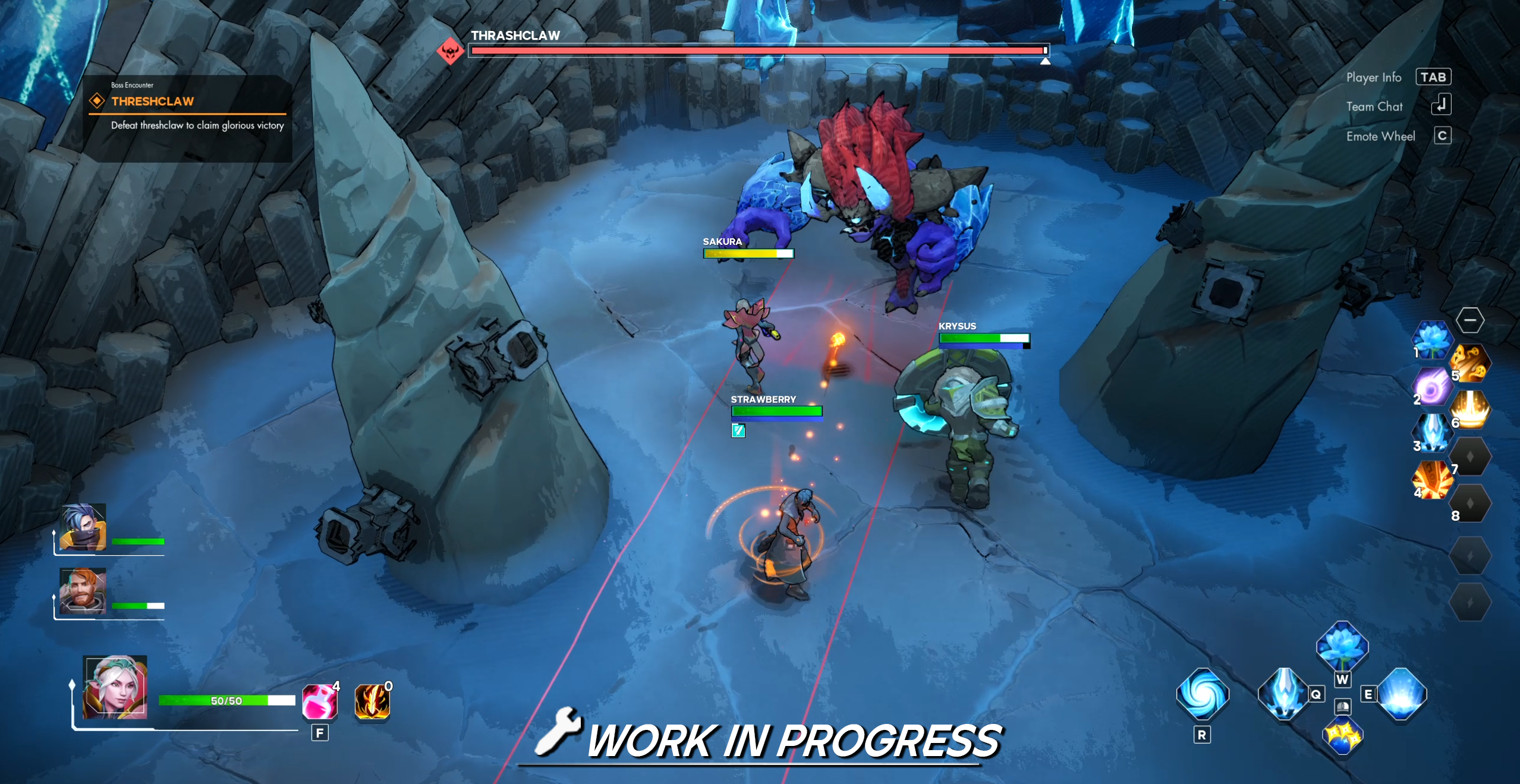 Locked in on Project-R
As we move further away from the Closed Beta of ECH, we're able to see more and more of the road ahead for Project-R. The current focus of our small team is on building a playable demo version of Project-R, as we're fighting for Vela's survival with this next bet. So far, we've been happy with the progress but the changes are more than just a few tweaks to the old formula, as maybe you can start to imagine. In the end though, we believe it's worth taking the big shot to realise the full potential of Evercore Heroes.
We can't wait to share more in the coming time, and even get some of you hands on with the game. Make sure to sign up for our newsletter to stay up to date on further updates and upcoming playtests. As always, stay heroic and thank you for making Evercore Heroes a game worth fighting for!
-Volibar